How to apply to UNM CAMP
The UNM CAMP Scholarship Program application is online. Below are some steps to guide you through the application process. There are 2 parts to applying; an online application and providing supporting documents. CAMP must receive all portions of your application including supporting documents, before your application can be reviewed. Students are selected on a first come first serve basis.
When to apply?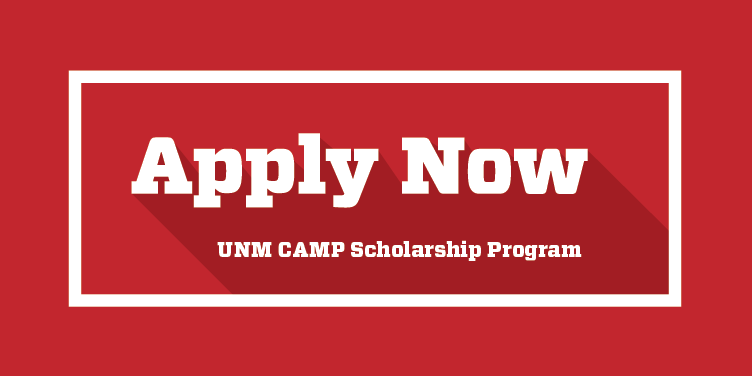 Fill out the online application.
You can apply now, CAMP has a long application period and we are currently accepting applications. We encourage students to submit the online portion as soon as possible and to submit documents as they are completed. No more messy forms, or losing pages the application is all online in a simple easy to follow format.
Are you eligible to participate?
You must be a U.S Citizen or U.S Permanent Resident.
You must be a first-time freshman and attend full time for your first year at UNM.
You must demonstrate financial need.
One of the following three statements must apply to you.

Have you, or at least one immediate family member, spent a minimum of 75 days during the past 24 months as a migrant or seasonal farmworker?
Or - Are you eligible to participate, or have participated, in the Migrant Education Program (K-12) while in school.
Or - Are you eligible to participate, or have participated, in a National Farmworker Job Program or Department of Labor Employment Workforce Innovation and Opportunity Act (WIOA).
Part-4 can be tricky if you have question on whether you performed qualifying agricultural work please visit our Eligibility Page for more information, if you still have questions please contact the CAMP Recruiter.